Building Tennis IQ
Learn the 3 Steps to Pro Level Tennis IQ
Here's What You Get When You Sign Up Today!
START HERE MODULE: (7 videos) This module helps set the stage for what you'll learn during the course. You'll learn Jorge's terminology and teaching system, so the rest of the course makes even more sense.

MODULE 1: (3 videos) You will learn about Level 1 of Tennis IQ which deals with the PLAYER and the BALL. This is the most basic level and deals mostly with reception skills.

MODULE 2: (4 videos) We'll teach you about Level 2 of Tennis IQ. This deals with YOUR SIDE of the court. In this module we show you the training games we use to get our players making all the right decisions about THEIR side of the court.

MODULE 3: (6 videos) We'll teach you about Level 3 of Tennis IQ. This is the highest level and what we call Pro Level Tennis IQ. Now it's all about your OPPONENT'S side of the court. Our proven and tested games will get you thinking like the pros.

MODULE 4: (7 videos) This Module is all about MISSIONS. Missions are another name for TACTICS or PLAYS that you can run when you are playing tennis. You are going to learn WHAT to do when you play against various styles of opponents.

MODULE 5: (6 videos) This Module is all about Practice Plans. We will give you 5 weeks of very specific practice plans to use that focus on all 3 level of Tennis IQ. You will also get a downloadable PDF diagram of each practice session so you can take it on the court with you.
Plus You Get These
TWO
Bonus Modules Worth
$200
TRAINING GAMES:
In this module we show you 6 training games that will get you player with Pro Level Tennis IQ. You will learn that you are actually the SECOND most important person on the court and why. We will also teach you how to play QUALITY points and not just be a good ball striker.
ON COURT STRATEGY:

You'll go on the court with me and listen in behind the scenes as I personally coach my student in a live match. You will learn what type of plays to run based on the score and situation in the match so you can use the correct tactics against your opponents and get more wins.
Why Should Jorge Be YOUR Online Tennis Coach
Jorge is one of only 11 people worldwide that has the Master Professional rating with the USPTA and the International Master Professional rating with the PTR.

Jorge has personally coached 50 nationally ranked juniors and developed 3 separate national champions (USTA gold ball winners).

Jorge was named the USPTA National Professional of the Year in 2015.

Jorge was named the PTR National Professional of the Year in 2017.

Jorge has appeared on the Tennis Channel on several occasions with the OnCourt with USPTA Show.

Jorge's ADULT students have won hundreds of league championships.

Jorge's JUNIOR students have won more than 190 HS State Tennis championships in Michigan.

Jorge is an internationally recognized speaker that frequently presents at the most prestigious National and International tennis conferences, including; Australia, China, Norway, Mexico, Canada, Wimbledon and all over the United States.
Here's the Value of Everything You Get:
The Building Tennis IQ Course: (54 videos) These include all the modules in the course that is designed to show you how to systematically improve your tennis IQ. The course is packed with tons of drills and games that you can use right away. value $197

BONUS 1: (7 videos) I'll teach you my favorite games for learning to play quality points. You'll also learn my "missions-based" practice system that will help you acquire more usable tactics. value $97

BONUS 2: (13 videos) I'll take you on the court as I coach a 5.0 player in a real match. You'll get to hear me strategize with the player and decide which "plays" he should use as the match unfolds. You'll be surprised at how much planning and strategizing goes into each point at this high level. value $97

That's a Total Value of $391 yours today for just $197
Frequently Asked Questions & Answers Sections
1. How is this course any different from what I've already seen online?
There are tons of tennis instructional videos online, some good, some bad. The difference in this course is that we take a deep dive into the process of developing

Tennis IQ

. The course is laid out in Modules that have been specifically designed to maximize your learning, so you start winning more matches NOW.
2. I've never done an online lesson, does this really work for players?
Absolutely Yes…. BUT you will have to do 2 things to succeed.

Watch the videos in the course and study them.
Go on the court and practice what you have learned in the videos.

While you will improve just by watching the videos, you will get much better by going on the court and using the drills and practices that we teach you.
This course is for players and coaches alike. In fact, our courses are typically purchased by 50% coaches and 50% players. We even have several former touring professionals who buy our courses because they are now tennis teachers/coaches. NOTE: This course qualifies for Continuing Education credits for both PTR and USPTA certified tennis pros.
4. How is the product shipped?
You will receive INSTANT, digital access to these training videos… Which means that just MINUTES from right now… You could be well on your way to learning Pro Level Tennis IQ.
There's nothing to ship, and you'll have access to the entire training program, plus bonuses, FOR LIFE!
5. What if I don't like the course, is this offer risk free?
YES it is Risk Free.

Listen, I shop online too and sometimes what I buy just isn't what I thought it would be. Usually, I have a tough time getting a refund or any help. I hate that!

That's why we offer a 60-day, no questions asked, full money back guarantee.

Our goal is to take away ANY RISK so you can confidently try our courses and know if it is not what you expected, we will give you a quick and courteous refund.

That's our promise to you.
What The Best Minds In Tennis Say About My Course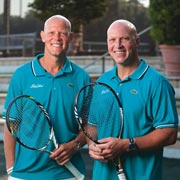 "Jorge Capestany is a conceptual genius in our sport of tennis in our time. Like innovators before us like Nick Bollettieri, Dennis Van Der Meer, Vic Braden and many others that generated the momentum of the 70's tennis boom, Jorge is a direct tennis descendant of the all-time greats. Jorge is a late to the sport turned tennis lifer who makes everyone who learns from him better. Jorge is the American Tennis Dream."
Luke & Murphy Jensen, 1993 French Open Doubles Champions.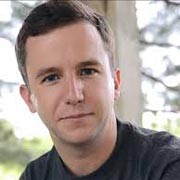 "Jorge is the man! He's like a tennis mad scientist always inventing new drills and games that teach students how to play the game without over-complicating it. I'm lucky to call him a mentor and friend. If you're serious about improving, and having more fun in the process, you should check out his stuff."
Will Hamilton, Co-Founder – FuzzyYellowBalls.com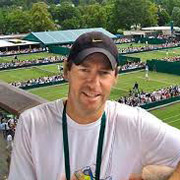 "I just wanna talk to you briefly about Jorge's website and the amazing drills. I highly recommend his site, I love it, I love the drills and we're working together to make them even better."
Craig O'Shannessy, Lead Strategy Analyst for the ATP & WTA Tours.