VIP 2-Day Immersion Camp In Indian Wells
Sat & Sun – March 7-8, 2020
Play Video Below For Full Details
2 DAY CLINIC INCLUDES:
11+ Hours of Coaching in-Person on Outdoor Hard Courts: $3,200 Value

Special Mystery Gift: created by Jorge – $49 Value

Stroke Analysis: of one of your strokes – $200 Value

Personal Game Assessment: based on our teaching system- $200 Value

Building Tennis IQ Digital Course – $200 Value

Pro Practice Secrets Digital Course – $200 Value

On Court DOUBLES Strategy Digital Course – $200 Value

On Court SINGLES strategy Digital Course – $200 Value

Incredible Ratios: We'll have 1 coach to every 3 players!
Total Coaching Value: $4,449
Your cost is just:

$1,997 per person



$1,797 for 2 or more

SATURDAY: Mar 7, 2020
11:30 pm – Meet and greet at LaQuinta Resort and Club Tennis Pro Shop
12-2 pm – Building Tennis IQ for Singles and Doubles
3-4 pm – The 3 Levels of Tennis IQ
4-5 pm – Missions and Acquiring Tactics
5-6 pm – On Court Match Play Analysis
SUNDAY: Mar 8, 2020
11-12:30 pm: Lunch & Strategy session (plus Mystery Gift!)
12:30-2 pm: Serves & Returns
2-3 pm: Baseline Play
3-4 pm: Transition, Net Play, and Passes
4-4:45 pm: 1-on-1 SINGLES Workout
4:45-5:30 pm: 1-on-1 DOUBLES Workout
5:30-6 pm: Debrief and Takeaways
TRAIN IN LUXURY AT THE LaQUINTA RESORT & CLUB
Our VIP Immersion Clinic will take place on the outdoor had courts at the famed LaQuinta Resort and Club. Our camp is conveniently timed to take place just days before the Indian Wells Pro Masters tournament. Before our Saturday on-court session, we'll meet at 11:30 am for a Lunch and Strategy session on site at the LaQuinta Resort and Club.
WHO IS THIS VIP EXPERIENCE FOR?
Singles AND Doubles Players at the

3.0 | 3.5 | 4.0

levels
Are you stuck at the 3.0, 3.5 or 4.0 skill level? Then stop focusing on technique…
When it comes to tennis improvement, there's a decent chance you're one of the many players in the world that are addicted to technique. Chasing the fool's gold of the perfect stroke and never quite getting there.
If this sounds like you, then our VIP Immersion Camp if perfect for you.
In this camp, you will learn TWO huge lessons that can improve your game dramatically.
DAY 1: Focuses on Building your Tennis IQ. This means that you will Learn that you're NOT the most important person on the court during a match… our opponent is.
We'll teach you my proven system that will help you move past technique and help you understand the ART of competition and how to actually WIN matches and not just acquire pretty strokes.
DAY 2: Focuses on developing Pro Practice habits. You'll learn the secrets to an effective practice that makes you better. You'll walk away with over 15 proven drills and games that will ensure every time you take the practice court; you have a purpose and are actually improving and not wasting valuable practice time.
Imagine leaving our Immersion Camp and not only understanding how to move on the think and run plays when you compete but for the first time ever, doing it on autopilot.
The VIP Immersion Camp and our proven system has developed hundreds of adult league champions, more than 190 HS state champions, and even 3 separate national champions.
Here's what you can expect to learn at a VIP Immersion Camp…
The 3 levels of tennis IQ

and how to practice each one

How to Run Plays

in tennis so you use the best strategy against each opponent

The 6 Zones of the Court

and how to use the right shot is each zone

The 4 Strike Zones

and how to target you opponent's weakest one

The Perfect Practice template

so you can stop wasting practice time and improve faster

Secrets to How Pros Practice

so you increase the number of "touches n the ball"

SINGLES 1-on-1 Workout

a proven practice routine for massive SINGLES improvement

DOUBLES 1-on-1 Workout

a proven practice routine for massive DOUBLES improvement

The FIVE Play Situations

that exist in tennis and which areas you need to improve
WHO IS THIS VIP EXPERIENCE FOR?
We are only accepting and working with 8 VIP participants that are between a 3.0 and 4.0 skill level for this experience.
Because this is such a small group, we want to make sure that your skill level and passion for improving your game is a great fit, so we'll be using an application process to ensure that we have the right 8 students to maximize our success and fun together throughout the weekend.
Act fast if you want to be part of this experience! Once we fill up, we will not be adding any more spots or clinics.
Your Personalized Action Plan
After we're done with our LIVE in-person immersion camp, it doesn't stop there.
We don't just give you some generic tips and send you home.
You'll go home with a Customized Practice Plan to follow, that we create just for you!
We'll break down each of the 5 Play Situations of your game and provide you with drills and practice plans specific to you, based on the areas you need to improve the most.
We give you personalized instruction on the court at the camp and send you home with specific plans to continue the improvement process, so you get more wins for months and years to come!
This clinic is strictly focused on helping you win more matches by improving your biggest weapon… YOUR MIND.
PLUS…You'll Get An Amazing 4 Bonuses
Bonus #1:
Lifetime Access to the Building Tennis IQ Digital Course: This popular course will serve as a great resource to remember all that you have learned in the VIP Immersion Camp. It has over 70 videos that are broken down in Modules for all three levels of Tennis IQ.
Bonus #2:
Lifetime Access to the Pro Practice Secrets Digital Course: This popular course will serve as a great resource to remember all that you have learned in the VIP Immersion Camp. It has over 73 videos and weekly workout plans to keep you improving and not wasting valuable practice time. You'll learn the differences between the ways that the Pros and Rec players practice.
Bonus #3:
Lifetime Access to On-Court Singles Strategy Digital Course: I'll take you on the court for a singles match between two 5.0 players and you'll get to hear me coach and strategize with one of the players. You'll be amazed at the level of planning and strategizing that goes into each point before it starts. It's a rare sneak peek into the mind of a high-performance player and how they think on the court during a match.
Bonus #4:
Lifetime Access to On-Court Doubles Strategy Digital Course: I'll take you on the court for a doubles match between four 5.0 players and you'll get to hear me coach and strategize with one of the teams. You'll be able to hear them think through points and develop strategies as the match unfolds. You'll learn the 2 most important stats every doubles team must be aware of and how to use sabotage to turn a match around if you are behind. There's even a player debrief where they give their thoughts about the match immediately after it is over.
MEET YOUR HEAD TENNIS COACH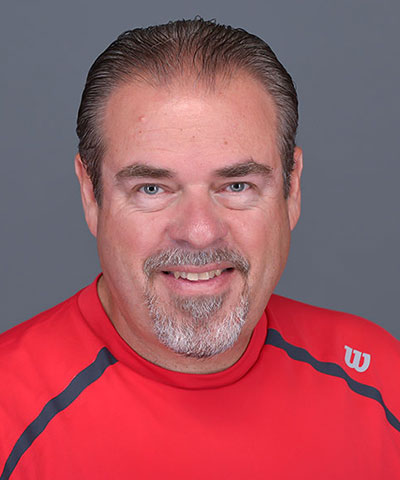 JORGE CAPESTANY:
Jorge is one of only 10 people worldwide that has the distinction of being a Master Professional with the USPTA and an International Master Professional with the PTR.
Jorge is an internationally recognized speaker that has presented over 200 times at major tennis conventions across the world including the USPTA World Conference, the USTA Tennis Teachers Conference, the Australian Coaches Conference, the Canadian Tennis Federation, the Norwegian Tennis Federation, Wimbledon PTR conference, as well as speaking in Mexico at the ITF worldwide coaches conference.
Jorge is a 6-time Michigan Pro of the Year, a 2-time Midwest Pro of the Year, and a member of the USPTA Midwest division Hall of Fame. Jorge was named the USPTA Pro of the Year for 2015 and in 2018 was named the PTR pro of the Year.
Jorge has appeared on the Tennis Channel three times as a featured pro with the OnCourt with USPTA show series.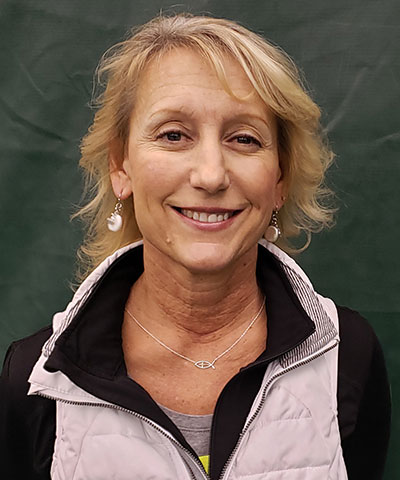 MARTI CAPESTANY:
Marti is a USPTA & PTR certified tennis professional and has 35 years of teaching experience. Marti has been married to and teaching with Jorge for the past 3 decades. She has appeared in hundreds of instruction videos with Jorge and their daughter Carli. Marti is a multiple winner of "Player of the Year" awards from the USTA and USPTA. She still competes in USTA leagues and is still rated as a 5.0 player at the age of 60. Marti is also certified as a Mental Toughness specialist through the Human Performance Institute and a Certified Tennis Performance Trainer through the International Tennis Performance Association. Marti was inducted into the Coldwater (MI) HS Sports Hall of Fame in 1991.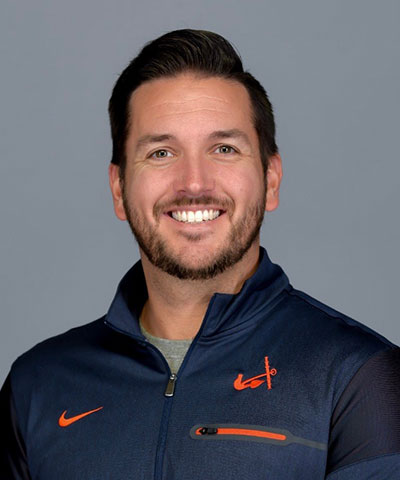 ADAM FORD:
Adam is a USPTA Elite and PTR Professional certified tennis professional. He was a junior student of Jorge Capestany from the age of 14. He is fully versed and an expert on delivering the teaching system that Jorge has developed over his nearly 4 decades of coaching experience. Adam is a USTA high-performance certified coach and has developed many nationally ranked players. He was a two-time state champion in High School. He played tennis for four years at Division I Northern Illinois University. Often recognized by his peers, Adam is in a unique position to teach in this VIP immersion camp.
What The Best Minds In Tennis Say About Jorge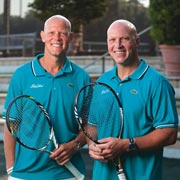 "Jorge Capestany is a conceptual genius in our sport of tennis in our time. Like innovators before us like Nick Bollettieri Dennis Van Der Meer, Vic Braden and many others that generated the momentum of the 70's tennis boom, Jorge is a direct tennis descendant of the all-time greats. Jorge is a late to the sport turned tennis lifer who makes everyone who learns from him better. Jorge is the American Tennis Dream."
Luke & Murphy Jensen, 1993 French Open Doubles Champions.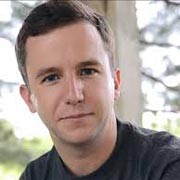 Jorge is the man! He's like a tennis mad scientist always inventing new drills and games that teach students how to play the game without over-complicating it. I'm lucky to call him a mentor and friend. If you're serious about improving, and having more fun in the process, you should check out his stuff.
Will Hamilton, Co-Founder – FuzzyYellowBalls.com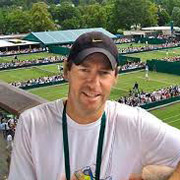 I just wanna talk to you briefly about Jorge's the amazing drills and teaching method. I highly recommend Jorge as an expert at teaching strategy and that you're not the most important player n the court… your opponent is.
Craig O'Shannessy, Lead Strategy Analyst for the ATP & WTA Tours.
NEED SOME HELP?
Email – support@capestanytennis.com
Phone – (231) 878-4850 (M-F, 9AM-5PM EST)